 
Aeronautica Imperialis: Wings of Vengeance (Anglais)
En achetant ce produit vous pouvez obtenir 7 points. Votre panier vous rapportera 7 points qui peuvent être converti en un bon de réduction de 3,50 €.
TTC
livraison sous 3-4 jours
A complete game in a box, including a 36-page rulebook for Aeronautica Imperialis
9 multipart plastic Citadel miniatures from the Imperial Navy and Ork Air Waaagh!
Fight over a double-sided Area of Engagement gameboard
The set includes the following Citadel multipart plastic miniatures, each supplied with an Aeronautica Imperialis base:
2x Imperial Navy Thunderbolt Fighters (can be assembled as Thunderbolt Fighters or Thunderbolt Fury Fighters)
2x Imperial Navy Marauder Bombers
3x Ork Air Waaagh! Dakkajets
2x Ork Air Waaagh! Fighta Bommers
The set also includes a 36-page rulebook featuring the following information:
The full Aeronautica Imperialis game rules, including how to build your force using Squadron Lists, how to perform Ace Manoeuvres, field different classes of aircraft and unleash ground defences. Learn how to manoeuvre your aircraft, adjust their altitude and change speed while avoiding the risks of crashing and breaking up (if you exceed your maximum speed). There are even rules for special manoeuvres including landing, taxiing, and taking-off.
The Dogfight scenario, as well as optional rules for fighting at night or in bad weather conditions
Squadron Lists, providing details of all of the aircraft in the box as well as their weapon options and special rules
A reference page showing the 8 different manoeuvres aircraft can take, as well as a 2-page quick reference containing the key game rules
And more…
1x double-sided Area of Engagement game board (depicting two aerial war zones)
1x double-sided card token sheet (70 tokens to help you keep track of all the action)
8x Six-sided dice (white with black pips)
1x Transfer sheet (for the Imperial Navy and Ork Air Waaagh! aircraft included in the set)
2x Quick reference cards (containing the key game rules)
Assemblage
Ces figurines, en multi-part plastic kit, nécessitent une préparation et un assemblage avant de pouvoir rejoindre vos tables de jeu.
Peinture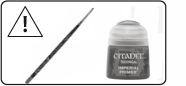 Les figurines sont livrées non peintes.
Nous vous recommandons pour ce faire l'utilisation des peintures et pinceaux Citadel.
Les clients qui ont acheté ce produit ont également acheté...